Product Description
Al Gag's Whip-It Fish 4oz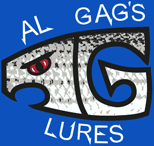 he Al Gag's Whip-It Fish is renowned for its proprietary swimming action created through the plastic that the tail is made of, as well as the way the jig head is designed. The jig weighs an average of 4.5oz with the tail. Good for fishing the Cape Cod Canal or jigging offshore. Each model comes with a complete Whip-It Fish (jig head and body) and an extra tail.
We recommend to glue the plastic to jig head. You can find the glue here.
Please Note: Item purchased may differ from picture shown. Please contact us if you have any questions.